Lubbock Fun Club brings you the influence of Lubbock!
Everything we do showcases good products and services to our valuable
12,000+ customers who rely on us for good information.

Engage the power of Women in an upbeat environment of FUN!
CLICK HERE to see our MEDIA KIT
CLICK HERE to request assistance or ask us a question
Every business
should want to be in this directory!
It is our "central rolodex"... a listing of "choice" providers of products and services for living your good life in Lubbock!

Click here and tell us to reserve a SPOT
for you!



Use these power tools to advertise!!

Advertise in your best category
(Calendar, Shopping, Dining, How to U, etc.)
$100 month (6-12x rate)
$200 month (1 to 6x rate)
• Premium Advertisement in your best categories
• Listing on FEATURED EVENTS and Calendar when appropriate
• Mentioned in emails to members as editorial on rotation basis
All policies apply.

Lubbock Pride Sponsor
$300 per month (6x to 12x rate)
$500 per month (1 to 6x rate)
• Premium Advertisement in 3 Categories
• Listing on FEATURED EVENTS and Calendar at key times for you
• Mentioned on LIVE Ad Lib segment on Stars 104.3
• Direct Marketing to Members in the FUN REPORT promoting key message 4 times per year
• Identification as a "Pride" Sponsor with advertisement on home page of web site
• Listing in various Hospitality Flyers throughout the year
All policies apply.

Power Punch
$300 per month
$500 per month
This is the perfect way to PUNCH something that has a limited time period. Idea for new store openings, event promotions, sales, Ribbon Cuttings, etc.
• Premium Advertisement in 3 Categories
• Listing on FEATURED EVENTS and Calendar at key times for you
• Mentioned on LIVE Ad Lib segment on Stars 104.3
• Direct Marketing to Members in the FUN REPORT promoting punch topic.
All policies apply.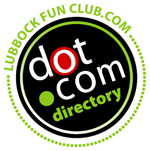 dot.com directory Listing
$200 to $300 per year. Upgrades available.
Your listing links to your web page or a page we will make for you.
List your Business in the dot.com directory and continue to promote your business
using our email marketing, advertising, and referrals.
Click here to see DOT COM DIRECTORY FLYER with "all the goods!"
CLICK HERE to see the Dot Com directory
CLICK HERE to see the Template Samples
CLICK HERE to fill out your Order Form
CLICK HERE to fill out a Template Form


Custom and A la Carte Services
Proposals available on request
Content sponsorship and underwriting
Promotions and events
Sweepstakes/Giveaways
Design and web site maintenance
Build customer databases and "Customer Care" services

Email Marketing
$250 per email - rate for dot.com and contract advertisers
$400 per email - rate for anyone else
• Announce your event, product or promotion to more than 10,000 subscribers
INSIDE our weekly FUN CLUB POSTCARD to the Fun Club members
Click here to see archives and look at these advertisements.
All policies apply.
Free Event Listing - No Cost.
You should always send your information for a free event listing. That's good marketing! However, we cannot promise all listings will be included. We do maintain the most comprehensive calendar in Lubbock but our calendar is edited with our members in mind. To increase your chances of being included, send text by email (sorry no faxes) at least two weeks prior to your event. Feel free to submit your "yearly calendar" at the same time so people can refer to your events well in advance. Estimated length of listing: 20 to 40 words. We edit the length to make the listing its most useful. Send all events to [email protected]. All policies apply.
Enhanced Event Listing - $60
Give your event a boost!
Secure your event in our listings, expand your words,
and add and image to help you stand out from the crowd! All policies apply.
Event, advertising, editorial and listing policies.
We reserve the right to accept or deny any event, business, listing, product, service, or
notice in our editorial environment as well as our advertising or any other service at any time.
While it is not our goal to limit members in the network, we reserve the right
to limit the number of advertisers or accept or deny any advertiser at any time.
Media Kit
Competitive Edge
The Medium
Demographics
Client Quotes
Clients/Partners
We're Out There!

Advertising Packages
Free Event Listing
Enhanced Event Listing
dot.com directory
Lubbock Pride Sponsor
Featured Business Listing
Home Based Business Network Directory
Email Marketing
Ala Carte Services

About Us
How it all started

Why should you be a sponsor?

We deliver customers with initiative!
You are reaching the primary buying power in Lubbock's market of 200,000 people. Our members are people with initiative who want to be "in the know" and receive these special messages and offers.

You're not competing with the entire phone book!
We represent only a select number of businesses and professionals and you can target your message to the same good customers every month.

Our members request our information!
Your message is smack-dab in the middle of information people actually want and read ... which increases readership, effectiveness, and impact. Sure, you can send your own message but will it be read? Put your message in THEIR weekly message or on the site where THEY are going for this kind of information and while they are in the best mindset to find you and understand what you are offering!

You get the power of word of mouth advertising! Word of mouth advertising is a reliable form of advertising. Most of our customers come from friends who gave them the "heads up" on this great service. Customers come to you with the confidence when they have seen you in the Lubbock Fun Club.

Get warm leads, rather than cold calls! Warm up any message you plan to deliver to the Lubbock area by reaching your best customers first through the membership relationship we have with them.

Listeners to Stars 104.3 hear your message! We are proud to be the official fun club of Stars 104.3. With top ratings among women 25-54, households of $50,000 plus, and dominant in morning drive, Lew Dee and Diana bring positive energy and endorsement to us.

We do target marketing to new residents! Newcomers spend more in their first year and establish buying patterns that can last years long. These are excellent customers to reach and we are working to get newcomers to log on for the information they need.

You can benefit from our ecommerce solutions including:
-- your own page in our site (saves you money!)
-- your own page in our site (we do the maintenance saving you time!)
-- email to your customers
-- your gifts in our gift guide (show people what you have)
-- help with database, creation of a web site, and so much more.

We are here for you. How can we help you?
Please e-mail us let us help you engage the power of the Fun Club!

Media Kit
Competitive Edge
The Lubbock Fun Club is the premier online city guide. Dedicated to the communities of Lubbock and the surrounding region, we empower local businesses with easy-to-use promotions and solutions that promote events, venues and businesses. Not everyone advertises here. Isn't that refreshing to find a "competitve edge" that reaches your right audience?
The Medium
With the pervasiveness of broadband at home and at work, the internet is becoming more accessible and convenient to use. Broadband brings the online world straight to our fingertips and right into our living rooms with a connection that's always online, helping change how we work, play, and organize our lives.

• The internet medium allows the information to reach the customer when THEY want it, giving them a better concentration on your message and access to them from anywhere.
• Interactive - allows 2 way communication
• Builds community, facilitating the free-flow of ideas and information
• Enables online transactions, online registrations, and time saving solutions
• A growing medium -- more people use it to get information than any other medium. According to a recent AOL online study, 41% of broadband users say the internet is their number one source for current event and entertainment information -- over the television, newspaper and radio
• Lubbock Fun Club members use our website as a resource on how to best enjoy the city and spend money. Simply put, we helps folks find the best options for their disposable income.
• More than 8,000 members are a lucrative target for increasing your customer base.

The internet is now the premier business communications medium. Being on the internet is no longer the option it once was. It is a requirement to becoming a competitive player, and taking full advantage of new business opportunities in a more lucrative marketplace.
Businesses that have adopted internet technologies are quickly experiencing improved working practices, new product and service development, better customer relations, enhanced communications, reduced costs, faster turn around time, and more competitive edge.
Demographics

AGE
Median age: 42
Age range: 25 - 55 -- 84% of members

25 - 34 -- 29%
35 - 54 -- 54%
55+ -- 17%
GENDER
Male: 18%
Female: 82%
INCOME
Median Household (HH) Income: $46,375
HH Income $100,000 or more: 10%
HH Income $50,000 - 100,000: 28%
HH Income $25,000 - $50,000: 41%
HH Income $25,000 or less: 21%
TRAFFIC
Total page views per month: 37,000 pages
Average unique users per month: 14,000
Average pages viewed per visit: 2.64
Total members reached by email weekly: 8,014 (month of September 05)
Top viewed pages: Calendar, Shopping, Dining, Family Fun
SELECTED CLIENT QUOTES
Over the years, we have worked with our clients and partners to build a foundation of trust and mutual benefit.

"We made enough sales from our first month with the Lubbock Fun Club to pay for our advertising budget over the entire summer. We are convinced! We will not enter another summer season with out advertising with the Fun Club"
- Debbie, Manager, Texas Water Rampage

"Thanks Sandy. I enjoy getting the weekly emails, you're doing a great job! I'll be in touch about some Christmas ideas....talk to you soon!
- Beth Bridges, Marketing Director, South Plains Mall

"We're very pleased with how Lubbock Fun Club helped us grow our business. We started out small but they've been with us every step of the way. I'll never forget how surprised we were when hundreds of families showed up for our first Family Fun Night. When people walk up with a printout of an email they were sent, you really can "see" the impact of their relationship with the Fun Club."
- Patti Simpson, Owner, The Maize in Shallowater


"We've wanted a web site but didn't have the time or the knowledge to do it. We knew if people could find us online, we would expand our golf marketing, locally and regionally.
Sandy gave us the idea to create a service for Lubbock golfers called "GOLF CENTRAL". It is a good place for golfers to find events, tournaments, and golf related articles. We also discovered that we could build our page within her site that already gets upscale consumers in our market! In addition to GOLF CENTRAL, she helped us fine-tune our logo, write a marketing outline with a few more steps, and now we're working on our own web site. It was easy ... step by step."
- Kandy Jay, Owner, Saturn Golf
PARTIAL CLIENT LIST
Abuelo's
As Time Goes By
Barnes & Noble
Bodacious Boutique (Dallas)
Building Lubbock
Calligraphy Etcetera
Candy Creations
Casino Parties of Lubbock
Casseroles to Go
Celebrity Attractions (Broadway Shows)
Changs House of Woo
Chocolate Fountain
Competition
Digital Base
Dirkwest.com
Don Pablo's
Down Memory Lane
Frame Pro
Garden Patch
Global Health
Holiday Inns
Homewood Suites
Housewarmers
Itex
Joyland
Katy Wallney Realtor
Laser Magic
Lubbock Cotton Kings
Lubbock Gunslingers
Lubbock Parks and Recreation
Lubbock Symphony Orchestra
Lubbock Zoo
The Maize at Shallowater
Mean Woman Grill
Moes
Mountain Hideaway
My Lips are Sealed
Old Mill Trade Days
Outdoorsman
Pegasus Broadband
Rug Depot
Saturn Golf
South Plains Mall
Stars 104.3
Sugar Brown's
Texas Water Rampage
Three Falls Cove
United Supermarkets
United Methodist Church (Lubbock District)
Volunteer Center
W Productions
WestMark Realtors, Inc.
We're Out There!
Lubbock Fun Club uses creative and strategic marketing avenues to promote Lubbock Fun Club. By using multiple mediums to get the word out, we insure consistent brand recognition, constant addition of new members, and community involvement.
ANNUAL SPONSORSHIPS or INVOLVEMENT
Abuelo's Patio Party
Buddy Holly/Walk of Fame Induction
Business Expo
Chamber of Commerce Golf Tournament
Christmas Lights Tours
Diamond in the Haystack
Family Fun Festival
Father's Day Contest on Stars 104.3
Generation 2000
Holiday Happening
Job Fair
K9 SplashFest
Largest Summer Sale
Lubbock Cotton Kings
Lubbock Home Show
Lubbock Symphony Orchestra events
Mom & Me Tea Party
Night at Lubbock Motor Speedway
Peddler Shows at Civic Center
Pet Fair
Pooch Parade
PTA Conference (District 17)
SOS - Singles Only Stuff
SW Farm and Ranch Show
Texas Tech Parents Aloha Party (move in weekend)
ZooFest
ONLINE REFERRALS
Building Lubbock
Cox Services
DirkWest.com
Google and other search engines rank us in top 10 in various categories
Lubbock Chamber of Commerce
Lubbock Convention & Visitors Bureau
Lubbock Hotel & Motel Association
South Plains Mall
Texas Outside
Texas Music Office of the Governor
Texas Tech Parent Relations
Thousands of links from commercial and personal websites
PRINT ADS
Kid's Sake Magazine
Lubbock Symphony Programs
Money Mailer (to key zip codes)
Thrifty Nickle (specific promotions)
TravelHost Magazine
ON THE RADIO
Live Ad Lib segment weekly on Weekly Segment on Stars 104.3
ON TELEVISION
Good Business tv program runs 16 times a week with rotating spots on KLBK

ON THE STREET
Hand to hand flyers and postcards by our street team
Hospitality teams at key events allow new members to join
STREET SPACE HOSPITALITY KIOSKS
On location at selected events and locations as needed. Click here for more info about them.
Definitions:

Bridge Page: This is a page that a client can use to promote itself. It's "your" page to use as you need and can include anything from photos from events to special messages. We encourage people to use the advantages of a Bridge Page even if they have a web site. Ideal uses can include: special offer, show merchandise, explain about your business (more than you can in an ad), show your picture, explain your community involvement.

Calendar of Events listings: We have the most comprehensive calendar in Lubbock (minus all the bars and bands!) ... and our readers are families and adults who want to find quality events. Send any event you would like considered to [email protected]
Featured Events Calendar: These are events that we "cherry pick" as promoting Lubbock's quality and diversity well, or they are our Lubbock Fun Club events, sponsored by advertising, or an occasion in which we are involved in some way.
Weekly E-mail: You can send your message direct to 7,000 plus Lubbock Fun Club members who have an ongoing relationship with the Fun Club. This is good because you can be more sure that they will READ your message when it's tucked in their newsletter. The recipients are "members" of our Lubbock Fun Club and have asked to be kept informed of businesses, special offers, and the best of Lubbock. Deliver your message this way and it's 1/10th the cost of postage and no printing for you!
Business Listing: In each category, these are businesses we have selected to promote based on subjective standards as our favorites or ones we would like to refer. All listings are subject to editorial approval. You can be a Featured Business Listing with logo and editorial profile on a paid basis.
Live Radio Ad Lib Segment: Sandy is on the Lew Dee and Diana show every Thursday morning at about 8:30 on Stars 104.3 to highlight aspects of Lubbock living, sponsor messages, and events of interest. This is a unique opportunity to tell the Lubbock community about things.
Promotional Flyers: You will be listed in promotional flyers distributed at key events.
Web Design & Hosting:
Great Web Pages! Customers and clients expect to be able to access business information 24 hours a day, 7 days a week. If you're not on the web, let us help you. We can provide a web page that represents your business well but doesn't require a web site of your own. E-mail to ask about special promotional pages and web pages that can work for you on a temporary or long term basis.
Great Web Site Design! Getting on the web is easier than ever and we have the staff and expertise to help you make it happen! We offer a variety of website designs or original ground-up site creation to fit your business and your budget. Whether you want to start with an elegant single web page or jump in with a detailed, multi-page site, our sales and design staff can get you up and running in no time.
Website Hosting! What's even better is Lubbock Fun Club can also host your site! E-mail for more information.