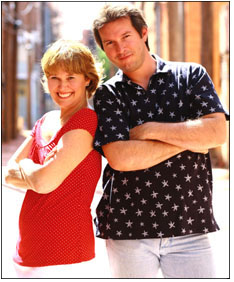 Meet Steph
and Darryl


New owners of
Lubbock Fun Club and LubbockFunClub.com
as of August 1, 2007



Steph

I consider myself a West Texas girl...having lived in Lubbock over half my life. I've worked in the medical field most of that time, primarily in pediatrics. Meeting people and being involved in community life are important to me. Two of my "fun hobbies" are playing pickleball and dancing...both ballroom and country.



I joined the Lubbock Fun Club in May of 2005, volunteering to coordinate a singles group that didn't actually exist at the time. Since then, the original singles group, SOS, has prospered...and so many people have enjoyed making lasting friendships and good times. In the fall of 2006, I became an advertising salesperson for the organization... so the recent transition into ownership has been a natural and welcome progression for me personally.

I consider it a blessing to have this opportunity to help bring the best of Lubbock to each of you out there.

Darryl

A lifelong resident of the Hub City, my past and present careers have taken me across the country and around the world...but I've always come home to Lubbock. I guess you could say that I've always considered myself an "un-official ambassador" of our city so this is a natural fit for me...and very rewarding.
I'm excited to be returning to my roots in journalism and graphic design, as this new opportunity with the Lubbock Fun Club presents

a great avenue for those creative expressions. I am excited about the chance to draw upon my past editorial and feature writing experience...which will allow me to share new insights and reveal interesting stories about Lubbock and our surrounding region.

My interests include music history of all types, travel, most any form of outdoor recreation...as well as sharing good times and making new friends along the way. I take particular pride in bringing readers timely information and insightful dialogue...so make it a point to check this website often to discover an ever-changing smorgasbord of fun, facts and friendly advice regarding the very best that Lubbock has to offer!
About the Fun Club
You're in the right place!
To be "in the know"...hear about new things going on or about to take place...receive chances to win...and celebrate the good life...the Lubbock Fun Club is tailored just for you!
Join today!
To receive our free FUN REPORTS with ideas, events, special promotions, and updates, click here and join the FUN CLUB today!
The Goal of the LUBBOCK FUN CLUB
Our goal is to help you:
1.) Know more about Lubbock and the area
2.) Connect you with resources that you need
3.) Begin an ongoing relationship with the Lubbock Fun Club that will continue to be a resource to help you enjoy the best of our good life in Lubbock!
Founded in 2003 by "The Fun Lady"
The Lubbock Fun Club was born in 2003 to help families find what's good and what's going on in our city. Sandy Parker, the founder, is creator of the fun club concept and her talents include tourism, business promotion and crafts of every type imaginable.
More about the Lubbock Fun Club

* Our WEB SITE showcases a wide variety of things in Lubbock from shopping and dining to family fun to churches, etc. BOOKMARK the site and return often to see updates.

* Our Lubbock Fun Report reminds you to review the events and points your attention back to specific things that might interest you. This is an email we send out once or twice a month to remind everyone about some upcoming events.
* Featured Events -- First you'll see events that we are promoting with emphasis. It could be we are taking an outing there together, or just feel strongly about it and want to bring it to your attention. This is followed by a good list of "what is going on" through the rest of the year. Click here to see upcoming Featured Events.
* Adding Dates to the Calendar of Events
If you know of any events that are not included, click here to send them to us.

* WIN FREE STUFF -- Every so often, we have offers to win free stuff like tickets to concerts, etc. Follow the directions and enter when you can ... It's FUN to win!
By "connecting our community", we cast a wide net of different resources and showcase local favorites...and in this way, the Lubbock Fun Club has become a network of information sources that helps all of us who enjoy living here...or who those who may just be visiting our city.
Our 100% Privacy Guarantee!
Click here