The DIAMOND IN THE HAYSTACK WAS A TREMENDOUS SUCCESS!
Fun Club members poured out to the Maize for a good Fall Family Fun Night!
Below, 10 finalists search for the Diamond and there is one clear winner!
Click here to see who!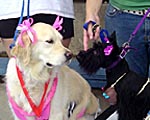 K9 SplashFest was a blast! Click here for photos
If you're an animal lover, you missed it! The dog days of summer were complete on the last day of the CITY POOL when dogs got in for free but the people had to pay! We swam with our dogs and watched them compete in four events (or maybe not): bathing suit, retreiver, dog paddle relay, and diving. Our top dogs won ribbons and prizes. .

Chamber Business Expo
We had a great time, enjoyed seeing all our folks who get our emails, and appreciate all the nice things everyone had to say. We also are happy to welcome some 450 people who joined the Fun Club during that event. Welcome aboard!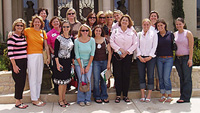 Tech Moms' Tour
We were privaledged to spend an afternoon with some Moms of Tech Students ... and took them on a "Sneak Peak at Boutiques" tour. We stopped at a few key stores and lef them shop and enjoy looking around. But more ... they found some new places to shop! Click here to see more photos>>

Lubbock Motor Speedway
We enjoyed doing some different, being outside, eating at the conession stand (of course) and just watching the cars. We hope you'll join us again this Sunday!

Fitness is Fun!
Here are some photos of our first week ... and wow is it nice!

Yes! Families CAN have fun at a FARM SHOW
The SW Farm and Ranch Class was so relaxing, so educational, and so easy to enjoy. Besides the booths, which offered neat 'free stuff', raffle chances, and educational info ... but there are also big tractors, neat horses, the legacy of american crafts, trucks, and best of all ... chances to make a memory with your family. Click here to see more pictures>>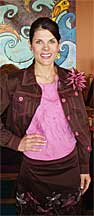 Stars 104.3 Ladies Luncheon was a nice relaxed and classy get together with models from Robert Spence agency showing us the array of outfits and accessories from Dorothy's. We met at Firewater Cafe, had lunch, won door prizes, and gave ourselves the gift of doing something for ourselves and making new friends. The food was delicious and the environment is artsy and creative.
Click here to see more pictures from our lunch together!
Mom & Me Tea Party is a wonderful time for Moms and daughters (and sons) to be together and start a new tradition.
Dressing up together, learning about tea, and making memories! This year, portraits will be a lovely addition to a neat Mother's Day celebration.
Family Fun Night at the Maze
Texas Tech grad students help us get prepared for our upcoming FAMILY FUN NIGHT. From smores, to hayrides, to corn cannon shooters, this was one fun filled night. (Oh, and the limo -- it was a nice touch.)
Lubbock's Largest Summer Sale
This was fun and there were all kinds of retailers who brought their merchandise for a great day of shopping.
Summer Fun BlackJack Championship
at Jake's was a blast! Twenty five people played to see who can accumulate the most chips. Tables and dealers were provided by Casino Parties of Lubbock.
Drug Free Rally
Families at the Rally register as Fun Club members and the Hulk came by to say hello. (That was the day is was 107 degrees!) We were melting but having fun.



Starbuck's Community Coffee Class
This is an unusual opportunity to learn about the different coffees, taste them, try them with a food pairing, and learn what's best to serve with what types of food! This is an exclusive offering for the Lubbock Fun club ... Look at the pictures>>


Crosby Stills and Nash Concert - a Blast from the Past
"Teach your children well" was a song I sang when I was in high school and now here we are '40-something' singing it again at the top of our lungs in Lubbock, Texas! Life is good. The concert was fun. It's amazing how Lubbock gets such good concerts in our fantastic United Spirit Arena!



The Baby Jamboree was FUN!
Take a look at the FINALISTS from our four categoris: Most Expressive Face, Most Adorable Eyes, Most Stylish Baby, and Most Adorable Style! We also have some great shots of babies, the Diaper Derby and some other things.


Business Expo is Great Exposure
More than 300 people joined the FUN CLUB in one day! We were in the booth with Casino Parties of Lubbock and assisted people in registering for a limo ride to a Black Jack party! Ryan (l) and Sandy (r) are there to answer any questions!

Hockey is always fun!
This was Zoo night and we all wore funny animal masks with the kids. It was fun. Our winner of the Mall money was a young man just ready to go buy an Xbox!