November 27….2014 Turkey Trot - 2 Miles and 12K (7.456 Miles) - Chip Timed Races. Minimum ages: 7yrs for 2 Miles and 16yrs for 12K. Refer to WTRC's Children's Running Policy for details. Cost: $20 for WTRC members and children 12 & under | $30 non-members | $35 late registration (Nov 25 & 26). Visit http://wtrunning.com/ to register online. Bayer Museum of Agriculture in Mackenzie Park | 1121 Canyon Lake Drive; 8:30 a.m.





November 27 – 30 (Repeats December 5-7, 12 -14, 19 -21, 22- 25)….Santa's Land Drive thru Christmas Park in Tahoka - Opening evening is approaching soon. November 27, 28, 29 & 30 we will open at 6:30 and lights will go off at 10 p.m. The Blue Weed Special Train will be at Santa's Land November 27, 28 & 29, train rides start at 7 - 8:30 p.m. to provide rides through the park opening weekend only. Park will open every Friday, Saturday & Sunday (weather permitting) (December 5, 6, 7, 12, 13, 14, 19, 20, & 21 then we will be open December 22, 23, 24, 25. We hope you all make plans to visit Santa's Land Drive thru Christmas Park located at S.11th & Ave O (south west corner of town) in Tahoka. For more information call 806-891-1291.





November 28….The Eagles & Bon Jovi Forever: A Cactus Tribute - From LA To New Jersey, The Eagles and Bon Jovi were the greatest of the 70's and 80's decades! Starting the show with The Eagles, you'll hear favorites like "Desperado", "Take It Easy", and "Hotel California". Then in the high powered 2nd half, you'll be at an arena in the 80's hearing Bon Jovi hits "Livin' On A Prayer", " Bad Medicine", "Wanted Dead Or Alive" and many more! The Cactus Theater combines two of our most popular tribute showcases to form this exciting concert! Starring The Lubbock Texas Rhythm Machine lead by Dustin Garrett with featured singers Amber Pennington, Jeff McCreight, and Jason Fellers will ROCK the house for this "Best Of Tribute."This concert will be one of your all time favorites! Please contact the box office at 806-762-3233 to reserve tickets. Reserved seating $20. Cactus Theater,1812 Buddy Holly Avenue; 7:30 p.m.






November 28-30; December 5-7; 11-14; 17-23; 26-27….Polar Express Train Ride - The Polar Express comes to West Texas to recreate all the sights and sounds of the time-honored story. Picture the excitement of children dressed in pajamas with golden tickets clutched in their hands as they board the train and prepare to embark on their journey to the North Pole. The story begins when the Conductors calls "All aboard" and gleefully punches everyone's ticket. Little faces will peer out the train's windows as we pull out of the station on our way to the North Pole. Guests will hear the sounds of the motion picture soundtrack as the story reading begins and the book's characters come to life. Dancing chefs will serve hot cocoa and cookies to all riders in a merry fashion as the doubting hobo wanders through the train. The train stops where children will behold the magic of the North Pole from their warm train seats. With a jolly "Ho, ho, ho" Santa waves to everyone and climbs aboard where he will greet each child and present them with the iconic silver sleigh bell - listen carefully, only believers can hear its ringing! Christmas carols will be sung as elves dance along as the journey back to the station begins after a memorable ride that sets the tone for the whole holiday season. Join us in this annual event sure to become one of your family's treasured traditions. Ticket prices vary – For more info, please visit www.westtexaspolarexpressride.com or call 877.726.7245. 103 N. Steck Ave., Wolfforth, Texas.






November 29….Miz Ayn: The Mean Woman Sings with Her Friends - The "Mean Woman" is back!!! Miz Ayn is returning to the Cactus stage, cookin' up the best hot rock and blues this side of the Mississippi! It doesn't get any better than that! Come join Miz Ayn and her fantastically talented friends for a great evening of music and fun! You might even win a free burger from the "Mean Woman Grill" and a night out at the Cactus! Please contact the box office at 806-762-3233 to reserve tickets. Reserved seating $20. Cactus Theater,1812 Buddy Holly Avenue; 7:30 p.m.





December 2….56th Annual Carol of Lights - Texas Tech University will host its 56th annual Carol of Lights holiday event, "Celebrating Spirit and Tradition." The event begins at 6:30 p.m. with the Carillon Concert and will be followed by the lighting ceremony at 7 p.m. at Memorial Circle and the Carol Concert at 8 p.m. at Hemmle Recital Hall. Hosted by Residence Halls Association (RHA), the festive event features performances of traditional carols by the Texas Tech choirs and a torch-light processional led by the university's Saddle Tramps and High Riders spirit organizations. The processional will start at the university seal at the Broadway entrance and follow the luminaria-lighted route around Memorial Circle to the Science Quad. Since its beginning in 1959, the annual event has grown to more than 20,000 people in attendance. Preparation for the event began in September and continues through the week before Thanksgiving. More than 20,000 red, white and orange lights are hung up and connected through one strand on 18 buildings around Memorial Circle. As Texas Tech and RHA work toward increased sustainability, more than 80 percent of the lights will be LED bulbs, significantly reducing energy consumption for the campus. The lights are expected to be 100% LED by 2015. Immediately following the ceremony, the Texas Tech School of Music will host its annual Carol Concert. "The concert will feature familiar and new holiday songs from all four of Texas Tech's choirs and the West Texas Children's Choir. The audience will be invited to sing favorite carols along with the singers." Tickets for the Carol Concert range from $8-$14 and can be purchased online or at the door the night of the event. Admission is free for Texas Tech students with a valid student I.D. Parking will be available to the public in the north commuter parking lot near Jones AT&T Stadium. Campus streets in the vicinity of Memorial Circle will be closed beginning at 5:30 p.m. and will remain closed until the completion of the event. Increased handicapped parking will be available in the R1 parking lot off 15th Street behind the sciences building. The lights will be on from dusk until midnight through Jan. 1. Memorial Circle at Texas Tech University (University Avenue and Broadway); 6:30 p.m.





December 4….Lubbock Fun Club Singles "SOS" Monthly Dinner - Come and enjoy friends and food at Cattle Baron's Restaurant. As always, let us know you are joining us, so they can have appropriate wait staff and seating! RSVP by email to – sossingles45@yahoo.com or Robbie, 790-7578 or Jan at 778-0419. Come have a great time and share a meal together! Tell a friend or bring a friend...but whatever you do, come join the fun with our group! Cattle Baron's Restaurant, 82nd & Quaker; 6:30 p.m.





December 5….Buddy Holly Center Exhibit - The Buddy Holly Center will provide an opportunity for patrons to enjoy fine art, entertainment and refreshments at the center for free during the First Friday Art Trail. Displayed in the Fine Arts Gallery is the new exhibition, Recycled, Re-seen featuring the environmentally friendly work of five local artists: George D. Gray, Pat Maines, Larry Prcin, Chad Plunkett and Jonathan Whitfill. This exhibition takes on a new meaning as these artists re-see discarded materials and transform them into new works of art. The Ariel Cyclone that was originally purchased by Buddy Holly on May 13, 1958. It has a high compression 650cc headmaster engine. The item was a gift to Waylon Jennings in 1979 by members of The Crickets, Joe B. Mauldin, Jerry Allison and Sonny Curtis on the occasion of Jennings' forty-second birthday. For more information call 806.775.35626. Buddy Holly Center, 1801 Crickets Ave; 6 -9:30 p.m.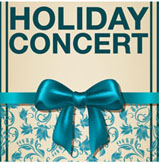 December 5….Lubbock Symphony Orchestra Holiday Concert - Maestro Cho invites you to the LSO's festive Holiday performance. This event will feature cherished yuletide favorites performed by the region's premiere symphony orchestra. The Lubbock Chorale will join the orchestra for this special performance that you won't want to miss! It will warm your heart and excite your spirit, so bring the entire family for this joyous celebration of the season. Cost: $35, $25. Student pricing: $25, $15. Please call the LSO Box Office to purchase tickets at 806.762.1688. Visit www.lubbocksymphony.org for more information. First United Methodist Church, 1411 Broadway; 7:30 p.m.