June 10 - 11 (Repeats June 17-18; 24-25)….Moonlight Musicals Presents: "Seussical" - To begin their 11th summer season, Moonlight Musicals is happy to announce their upcoming production of the charming Dr. Seuss inspired tale, "Seussical". The story centers around the tale of Horton the elephant and his quest to protect the dust-speck of Whoville and the Whos who live there. Narrated by the Cat in the Hat, "Seussical" will entertain all ages and keep you laughing for days, while also showing the potent powers of friendship, loyalty, family, and community. Picnics and coolers welcome! For tickets visit Select-A-Seat at http://www.ticketsage.com/ or call (806) 770-2000. Moonlight Musicals Amphitheatre, 413 East Broadway; Gates open at 7 p.m.; performance begins at 8 p.m.

June 10 - 12….The Peddler Show - Enjoy the perfect Summer Market where you can shop from talented designers, artisans, creators and craftsmen from all over the country! As we dive into the heat of summer, now is the time to shop the latest, seasonal trends! Remember Father's Day is right around the corner, so find that one-of-a-kind gift for your Dad while treating yourself to such a unique shopping experience! It's THE Texas Shopping Tradition… It's The Peddler Show in Lubbock! Admission; $7 adults and children under 12 are Free! Paid admission good all weekend. Lubbock Memorial Civic Center, 1501 Mac Davis Lane; Fri: 12 p.m. – 7 p.m., Saturday hours: 9 a.m.- 6 p.m.;
Sunday: 11 a.m.- 4 p.m.

June 11….Arboretum Second Saturday Program – The topic for this program is "A Year at the Park" presented by Mr. Anthony Hewetson, President of the Lubbock Audubon Society. Join us for coffee at 9:30 a.m. and the program begins at 10 a.m. Lubbock Memorial Arboretum, 4111 University Ave. Also 4 -6 volunteers are needed for the Butterfly release on June 25th from 5 - 7 p.m. Please contact Liz Wagner at lbkarboretum@gmail.com.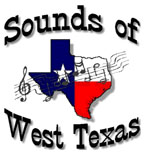 June 11….Sounds of West Texas - The Sounds of West Texas concert will take place at 6:45 p.m. with a special military flag folding ceremony by local members of the Honor Guard as part of our tribute to our military show. The concert will begin at 7 p.m. with door prizes then the evening featuring classic songs from local singers and musicians will begin. This show will have a special segment to honor our military past and present. Featured performers will be: Kaci (Keltz) Brice, Jerry Brownlow, Steve Burrus, Lesley Carraway, Mike Carraway, Rian Castillo, Ray Espinoza, Nate Feddes, Brady Gandy, Brenda Hopkins, Darryl Lippe, Donnetta Lippe, Little Bit Country Line Dance Team, Donnie Martin, Seth Pitman, Johnny Richardson, Riley Solberg, Betty Smith, Keith Smith, Baxter Vaughan, and Terry Westbrook. Tickets are $15 for adults; $7 for children 4-12 (under 4 are free); $12 a piece for groups of 10 or more purchasing their tickets together; and $10 for veterans with military ID. Tickets are on sale at all Select-a-Seat outlets in Lubbock at Amigo's Supermarket, Dollar Western Wear, Civic Center Box Office, Market Street, Ralph's Records, Texas Tech Student Union Ticket Booth, United Supermarkets. Call 770-2000 or toll free (800)735-1288 for more details. Lubbock Memorial Civic Center Theatre, 1501 Mac Davis Lane;
6:45 p.m.

Many more listings can be seen by clicking the "Calendar" tab at the top of this page!










June 11 - 12….19th Annual Wine and Clay Festival - Llano Estacado Winery - It's fairly common knowledge, that when creative folks get together, stuff happens. In Lubbock, Texas, for nearly two decades, come June 11 & 12, two special groups of creative folks have made stuff happen at Llano Estacado Winery – the largest production winery in the state. The get-together is the Llano Wine & Clay Festival – the 19th Annual. "The creative folks comprising our event are the makers of Llano's award-winning Texas wines, and member artists of Lubbock's Llano Estacado Clay Guild," according to Event Director, Janis Hubble. The Guild also invites several creative friends from New Mexico, Colorado, and elsewhere in Texas," Hubble adds, "for a very unique event celebrating two earth arts – wine and clay." "Janis gets her wonderful stable of artists here," notes Mike Laughlin, Hospitality Director for Llano Estacado Winery, "and we invite the rest of the world – literally – for one of the most popular weekends, here at our winery, with a newly renovated tasting room." The artists, over 40 of them, include ceramists, jewelers, photographers, painters, printmakers, an artisan baker (from Denver, Colorado), a gourmet cheesemaker (from Muleshoe, Texas), and new this year, The Chocolate Therapist (from Littleton, Colorado) – a specialist in wine and food pairings, especially chocolate. Local food trucks, live music, and pottery demonstrations round out the happening stuff on Saturday, June 11 – 10 till 5 and Sunday, June 12 – noon till 5 at Llano Estacado Winery, located 3.2 miles east of US 87 (Tahoka Hwy.) on FM 1585. So, if you are a member of "the rest of the world" come out and enjoy the weekend, taste some world-class Texas wines, with your choice of chocolate, cheese, bread or food truck offerings; purchase some great art and be entertained. Admission is free. Llano Estacado Winery, 3426 East FM 1585; Sat: 10 a.m. – 5 p.m., Sun: noon - 5 p.m.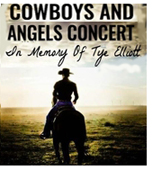 June 12…."Cowboys and Angels Concert: In Memory of Tye Elliott" - The Cactus Theater welcomes some of the best vocalists in West Texas to celebrate the life of Tyler Elliott. Tye had a radiant smile and a Texas sized heart. He was passionate about music and loved to watch his sister, Makenzie, perform. Tye's family continues to carry on his legacy of blessing others by donating the proceeds of the Concert to the Texas Boys Ranch in Lubbock, Texas for the completion an arena for equine therapy. Join Tye's family along with Don and Terri Caldwell, Dustin Garrett, Sheena Fadeyi, Jeff Bailey, Pete Cruz, Karleigh Porterfield, Bethany Longoria, Avery Guyear, Blaire Elbert, Haley Simpson, Madalyn Franklin, Emily George, Bristi McHam, Laurel Guzman, Tye's sister, Makenzie and the Lubbock Texas Rhythm Machine. There will be a silent and live auction including: a Christmas light helicopter tour for 2, an outdoor grill, a weekend in Luckenbach,Texas, a rustic western bench, a dove hunt for 2, and much more! Romans 8:28 - And we know that all things work together for good to them that love God, to them who are called according to his purpose. Come to the Cactus and help us celebrate Tye's memory while supporting The Texas Boys Ranch! Contact the box office at 806-762-3233 to reserve tickets or order online at cactustheater.com. Reserved seats - $20. Children under 12 - $10.00. Cactus Theater, 1812 Buddy Holly; 7:30 p.m.