Hub Performing Arts School
Now Registering for Spring!

Spring Semester at Hub Performing Arts School is offered February 4 through May 9.

THEATRE BROADWAY - The focus of these classes is on acting, singing and a bit of dance. The goal is to develop the well rounded performer through learning performance techniques, vocal skills, and musical theatre style dance. Classes are offered for Kindergarten through high school. There are beginning and advanced level classes. These classes will perform at the Talent Showcase at the end of the semester and have the opportunity to compete at Showcase Dance Competition in May.
FUNNY STARS - this class is for 6th through 12th graders who want to work on their comedic talent. The teacher is from NEW YORK CITY! He is an actor and a professional clown. Tech's Impov Team, ALTERNATIVE FUELS, will also be working with the class. If there's enough interest, we'll create a young age class.

SERIOUS STARS - this class, for all ages, is for those who would like to make a career out of being a star. This class will focus on audition preparation, acting in front of a camera, and creating a professional resume and headshot. This class will have the opportunity to shoot a commercial. The teacher for this class has worked with Broadway greats and has trained in New York City! Those signing up for this class should realize that this class will work hard and there will be less focus on fun.

DANCE WORKSHOP - We are approaching dance in a new way this semester. We will prepare students for musical auditions and train them in ballet, tap and jazz. Four weeks will be spent on each discipline. There is a beginning level for all age groups. Experienced dancers will audition for levels 2 or 3.

BROADWAY BABIES - for our tiniest stars we will offer a class that has dance, singing and creative movement. This is a great way to begin early with those little ones with STAR POTENTIAL!

SHINING STARS - these classes are for those performers who are most comfortable with acting only. The class will have activities which help the actor to increase the creativity which will include games and other fun activities. This class will perform a short play at the talent showcase in May.
TALENT SHOWCASE - At the end of each semester at Hub Performing Arts School, we give our students a chance to show off what they have learned. Each class will perform a selection that reflects the learning objective of that class. Showcases are divided by age so that we don't have a five hour long show. Shows are a fun mixture of singing, acting and dancing. You will be amazed at what your students have learned in 12 weeks!
Adult Classes

We also offer classes for adults at Hub Performing Arts School. If you used to be involved in the arts and are missing the enjoyment you received, or you are a beginner who believes you have some talent, we have classes for you.
PILATES - This class is a wonderful opportunity to get in shape or stay in shape. It is great for everyone! We offer this class several times a week in the mornings and the evenings so that you can find a time that works best for you. The class works on a punch card system. You purchase a card for $100 with 10 classes on the card. Attend class when it is convenient for you, get your card punched and then purchase a new card when that one is completed. Our promise for this class is: After 10 classes- feel a difference, 20 classes- see a difference, 30 classes- a whole new body! Look at our schedule to see when classes are offered.

PRIVATE VOICE LESSONS - Have you always wanted to be a singer or want to improve your talent? Voice lessons will teach you the skills, techniques and habits needed for a singer. Classes are 30 minutes long, once a week. You may choose to perform in our end of semester Talent Showcase.
ACTING CLASSES - We offer private and group acting lessons. These classes are great for those adults wanting to audition for some local plays, interested in theatre as a career or for those business professionals who want to improve their powerful presence in the workforce.
DANCE WORKSHOP - This class spends four weeks each on ballet, tap and jazz. This is perfect for the beginner who is interested in dance for performance or fitness or for the adult who has been away from dance for a while. We also have an advanced level for those over 18 who are serious about dance.
HIP HOP - This class is great for fitness and is also just a whole lot of FUN! You can show off your skills on the dance floor or just impress your friends or kids. Hip Hop is sweeping the nation! Our instructor is incredible!
Click here for the complete 2008 Spring Schedule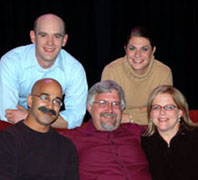 Hub Theatre Group

There's a new theatre group in town! We are excited to be able to bring our brand of entertainment to Lubbock.
HTG's Mission

The Hub Theatre Group is an organization that values the importance of cultural endeavor to the soul of a community and is committed to providing compelling and relevant theatrical entertainment to West Texas while serving the community through education and outreach.
Proposed 2008-2009 Season for Hub Theatre

Stars Spangled Girl– This quintessential Neil Simon comedy is a hilarious look at the adage that opposites attract.
Sylvia- A.R. Gurney's look at the difficulties of long-term marriage through a look at a man's relationship with his dog
The Dumbwaiter- Two hitmen wait for their victim in this work by Nobel Prixe-winning playwright, Harold Pinter.
Don Juan in Chicago- Don Juan has been granted immortality and has found himself in modern-day America in this David Ives play.
Three Day's of Rain– Richard Greenburg's play looks at family memories and secrets.
Inherit the Wind– The Jerome Lawrence and Robert Lee classic depicting the events surrounding the Scopes monkey trial.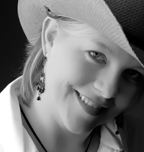 Paula Chanda

Paula began her love for theatre as a child performer herself. She had an agent in Dallas and toured professionally in The Sound of Music and was part of a nationwide casting search for the movie Annie. Paula continued her love for theatre into adulthood by singing and performing and eventually teaching theatre to all age groups. She is a Texas certified teacher in Theatre Arts. She has directed children's shows for the Lubbock Arts Festival and taught Super Saturdays for the IDEAL program for
Texas Tech.

As the mom of two talented kids, Aidan 12 and Alex 9, she knows how important it is for parents to see their children develop their potential. Starting this Performing Arts School is the fulfillment of a life long dream and of a need here in Lubbock for opportunities for children to have performance experiences and receive quality training in the arts.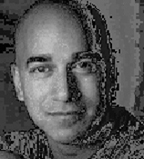 Bob Chanda
Executive Director

Bob Chanda has been seen on the Lubbock stage over the last few years in such roles as MacDuff in Macbeth, Belize in Angels in America: Perestroika and Atticus Finch in To Kill Mockingbird.
A licensed attorney and an MBA, he is currently working on his PhD in Fine Arts at Texas Tech University. Having had a life prior to theatre, his decision to make theatre his present life's work represented a major change in the direction for him, a direction dictated by his heart.
It is his commitment to theatre that motivated him to co-found Hub Theatre Group with his wife, Paula Chanda. Hub Theatre Group is an avenue for Bob and Paula Chanda to make a cultural contribution to the community they choose to call home.

For more information about Hub Theater Group,
click here
to send an email or
call 577-7441