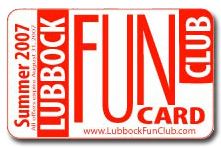 Jump into Summer Fun
and get your Fun Club Card today!

Only 1,500 people
get to purchase a card for $10
Get yours today!
Lubbock Fun Club wants to thank all our
participants who made this card so valuable!
Click below to buy online now and your card will be
mailed immediately to you!
Look at these neat values!
FREE MINI-DETAIL ($20 value)
GENE MESSER TOYOTA
(6102 W 19th St only)
FREE park entry for child at
BUFFALO SPRINGS LAKE
with paying parent
FREE 6" FUNNEL CAKE at
Stars & Stripes Drive-In Theatre
BUY ONE GET ONE FREE at
PUTT PUTT FUN CENTER
applies to Go Carts & Golf
Parents play FREE
at FUNOFAKIND
with paying child
FREE GREETING CARD CLASS
with Kelley Pitts
KID FUN PACK $2 ea (for up to 10 kids)
Burrito, Cookie, and Drink
at any one visit to
MOES SW GRILL
FREE SMALL CONE or CUP
SHERIDAN'S FROZEN CUSTARD
$10 OFF Registration for LHS Hotshots
Boys B-ball Camp June 11-15
JUMP IT UP
2 hours of jumping fun
for only $5
Buy ONE Pay-One-Price (POP)
arm band at JOYLAND PARK
and get a second POP arm band at 1/2 price
20% OFF any service
from CARPET TECH
50% OFF any project
for a kid up to 15 years old
at THE MUD ROOM
FREE 12 oz. LATTE or Wowweiccino
at SHERIDAN'S FROZEN CUSTARD
$25 Off Microdermabrasion
Facial Treatment
at LASER DYNAMICS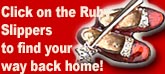 For only $10,
you get a
card worth
more than $100
in Summer Fun special offers!
Where can you get your
Summer Fun Card?
1.) Come to the
Business Expo.
We'll have them there.
2.) BUY YOURS
ONLINE RIGHT NOW!
It is 100% secure through PayPal and you can pay with your credit card!
We'll mail yours to you immediately.

JUST CLICK ON THE BLUE BUTTON BELOW.