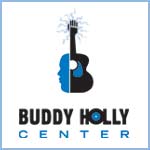 The Buddy Holly Center is a CENTER of arts and education! Get acquainted with these!
1801 Crickets Ave. and
806-775-3560
www.BuddyHollyCenter.org
Buddy Holly Center
SUMMER SHOWCASE 2007
Thursday Evenings 5:30 - 7:30 pm
This is a cool way to listen to live music sitting outside at the
Buddy Holly Center among the lit trees and plaza ambiance.
05/31 Doctor Skoob – Cosmic Americana
06/07 Two Tons of Steel – Rockabilly / Country Rock
06/14 Andy Wilkinson & Kenny Maines – Storytelling Songwriters
06/21 Two Timin' Three – Honky Tonk / Gypsy Swing
06/28 Wendy Colonna – Folk Rock
07/05 Prophets of Rockabilly – Rockabilly
07/12 Colin Gilmore Band – Roots Rock
07/19 Waiting to Derail – Alternative Country
07/26 Texas Bel Airs – Rockabilly
08/02 Cellus & the Loose Grip – Blues
08/09 D.G. Flewellyn – Rock-n-Roll / Rhythm & Blues
08/16 The Junior Vasquez Band – Classic Rock
08/23 Mariachi Amistad – Traditional Mariachi
08/30 Thrift Store Cowboys – Alternative Country
09/06 Mike Pritchard's Blue Thunder & the Lightening Horn – Blues
/ Swing
Cotton Club: Halfway to Slaton
May 8 – July 28, 2007
The Buddy Holly Center is thrilled to invite the community to
experience Cotton Club: Halfway to Slaton, an exhibit celebrating the culture, history and impact of the famous Cotton Club of Lubbock, Texas. Spanning over forty years and four different locations, the Cotton Club was once the only profitable venue for a band to stop between Dallas and Los Angeles. The Cotton Club was unique because of its blindness to race, color and musical genre, presenting artists such as Little Richard, Elvis, and Willie Nelson, among many others.
For over forty years the Cotton Club stood as the most influential and diverse performance venue in the region. Cotton Club: Halfway to Slaton will explore the social, political and cultural impact the Cotton Club had on West Texas, and the music history that has made West Texas famous around the globe. It is a well known fact that Buddy Holly saw Elvis perform at the Cotton Club, forever impacting his musical career and life. Cotton Club: Halfway to Slaton celebrates the immeasurable influence the notorious dance hall had on this region and the world.
Buddy Holly Center Educational Workshops
Lubbock, TX- The Buddy Holly Center invites you to participate in many exciting educational programs offered throughout the summer. We are proud to offer instrumental and craft workshops for various age groups. Pre-registration is requested, as class sizes are limited. For more information or to register please call 806.775.3560 or go to our website at www.buddyhollycenter.org.
"Six Strings Attached" Guitar Lessons
Music fans ten years old and up are invited to try out acoustic guitar
with local musician Joe Gillis. Joe has taught guitar instruction for
several years and boasts over 25 years of playing experience. Bring
your own guitar, or use one of ours while in class. This is also an
opportunity to play an original hand crafted guitar by Buddy Holly's
brother, Travis Holley. Two skill sessions are available each day.
Dates: Tuesdays, May 1, 8, 15, 22, 2007
June 5, 12, 19, 26, 2007
July 10, 17, 24, 31, 2007
August 7, 14, 21, 28, 2007
September 4, 11, 18, 25, 2007
Time: Beginner's Session: 5:45 - 6:45 pm
Intermediate Session: 7 - 8 pm
Cost: $20.00 for the month; or $5.00 per lesson
Ages: 10 and up
"Making the Band" Summer Camp
This isn't your ordinary band camp! Making the Band is an opportunity for aspiring musicians to spend one week learning about the music business, playing their instrument with other students, and creating a band. Kids 11-17 that currently play an instrument and/or sing, are invited to enroll in this ensemble music class. Students will spend one week working Susan Grisanti, a professional local musician, to create their own band. All students will perform at the Buddy Holly Center on the last day of class at 5:30pm. Basic instrument or vocal experience a must!
Dates: Monday – Friday, June 25 – 29, 2007
Time: 8:00 – Noon
Performance: Friday June 29th, 5:30pm in the Meadows Courtyard
Cost: $75 for the week
Ages: 11 - 17
Rockin' at the Cotton Club
You'll have a blast when you come to the BHC for a day of creativity
and fun as we celebrate one of our local music legends, the Cotton Club! Participants can join us for a whole day or just come to one workshop session if they prefer.
Poodle Skirts and Scarves
Date: Saturday, July 14th
Time: 10am-12pm
Cost: Free!
Ages: 5-8 with parent, 9 and up
We're inviting all you "hip" chicks to use your imaginations and
create a wearable work of art! You can cut out and decorate your own cool drawstring poodle-style skirt to have "glad rags" for the
afternoon's bash. Younger cool kittens must be able to use scissors to cut cloth or have an adult come along to help out.
Hot Rods!
Date: Saturday, July 14th
Time: 10am-12pm
Cost: Free!
Ages: 5-8 with parent, 9 and up
Here's a chance for all you Motor Heads out there to design your own hot rod! Rev up your creativity to turn everyday items into a souped-up sports car that really rocks. Every detail is up to you ~ body style, "chrome" bumpers, paint and detailing, and even the interior! Younger hot rod enthusiasts will need help from an adult.
50's Dance Party
Date: Saturday, July 14th
Time: 1pm-4pm
Cost: Free!
Ages: All ages welcome, 8 and under must be accompanied by adult All you cats - guys and gals, are invited to wear your hippest 50's threads and make the scene for a sock hop here at the BHC. Our dance instructor is really on the stick and will have you cookin' on the dance floor as you shake a tail feather like a real hipster. We'll have the jukebox jumping and some good eats. So don't be a square, get on the horn and call us to register for our 50's Dance Party – you'll be made in the shade! Those of you who call in time will be sent a list of suggestions for how to make your wardrobe really cook as you cut the rug!
Silent Wings Museum Educational Workshops
Lubbock– The Silent Wings Museum invites you to participate in
exciting educational programs. We are proud to offer aviation and
history related workshops for various age groups. All class sizes are limited and pre-registration is requested. For more information or to register please call 806.775.3560 or 806.775.2047. The Silent Wings Museum is located at 6202 N. IH 27 in Lubbock's old airport terminal.
Memorial Day Celebration
"Remember When?" Memorial Day Scavenger Hunt
Do you know why women put makeup on their legs in World War II? Have you ever heard of "Oleo?" What is a "Screaming Meemie?" Learn the answers to these and many other intriguing questions when you come to the Silent Wings Museum to participate in our "Remember When?" Information Scavenger Hunt. Participants will enjoy seeing WWII military equipment up close, learn about life in the Army Air Force during WWII, and taste some of the home front ingenuity practiced by folks on the
home front.
Date: Saturday, May 26th
Time: 1pm - 4pm
Cost: Free!
Ages: 6 and up (families are encouraged to come together!)
Independence Day
Begin celebrating the Fourth of July early at the Silent Wings Museum! Bring the family to the Museum on July 1st to help us honor Independence Day with an afternoon filled with crafts showcasing the red, white and blue. Children are invited to attend this free workshop and will have the opportunity to take home their creations. Hands-on crafts will include windsocks, red white and blue friendship bracelets, patriotic pinwheels and much more. All materials will be provided and the workshop is absolutely free. Celebrate Freedom with family and commun
ity at the
Silent Wings Museum!
Date: Saturday, June 30th
Where: Silent Wings Museum
Time: 1pm - 4pm
Cost: Free!
Ages: All ages are welcome!
WWII: Boot Camp & the Home Front
Experience a taste of life was like for men and women during World War II! Spend the morning learning about the lives of soldiers and airmen in the Army Air Force. Participants will get the "dirt" on the
equipment they carried and how it was used, drill like new recruits, and even eat like the soldiers did when they were out in the field.
The afternoon will be spent learning how men and women on the home front used fewer resources to live as comfortably as possible while conserving and recycling materials that were needed for the war effort.
Date: Saturday, July 28th at Silent Wings Museum
Time: 10am - 3pm
Cost: $10
Ages: 7-14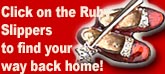 Buddy Holly Center programs are designed to motivate public interest and cultivate an atmosphere where art and music collide - leading toward a creative community.
The vision of the Buddy Holly Center is to discover art through music by celebrating legacy, culture and community.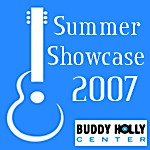 Programming at the Buddy Holly Center is made possible in part by the generous support of Supporters of the Fine Arts (SOFA), CH Foundation, Helen Jones Foundation, Target and the City of Lubbock. For more information about this exhibit or other events, please contact the staff at the Buddy Holly Center at 806.775.3560 or visit us online at www.buddyhollycenter.org