OUR COMPUTER MONITOR
CALENDERS ARE SO HANDY!
Just attach it to your monitor and you always have the date handy! You also have the Lubbock Fun Club web site address right there and we hope it reminds you to get out and FIND THE FUN!
PICK UP YOUR FREE CALENDAR THIS YEAR
at our booth at Holiday Happenings!
A BIG THANKS to South Plains Mall
who provided these calendars for January through June 1007.




(A note ... if you would like to have more for others in your office,
let us know and we will deliver them to you.)
FEATURED EVENTS are events that we are actively
involved in or are part of the promotion team.
Many times, we will be there and hope you will join us.
Click here to see November and December
January
Calendar Distribution
Jan 24-26 - SW Farm and Ranch Classic

February
2006 Dot Com Directory Signup
Annual Booklover's Sale
March
March 10, 11, 12 - 2006 Home & Garden Show
March 18 - Praise on the Plains
Spring Break
March 25 and 26 - Texas Outdoor Adventure
April
Empowering Women
April 1 - Birthday Party Guide
April 20 - 23 - Lubbock Arts Festival
April 27 - Canadian Brass Spring Pops
May
Empowering Women
May 6 - Mommy & Me Tea Party
May 11 - Booth at Chamber of Commerce Business Expo
May 19 - 21 Peddler Show
May 20 & May 27 Lubbock Fun Club Night at Nunsense
June
Empowering Women
Watch the Calendar for Summer Fun!

July
Empowering Women
"Kids Love Summer" Fun Guide – July/Aug
Beautiful Baby Pageant
Family Fun Festival

August
Empowering Women
K9 SplashFest with our Dogs
Margaritaville, Texas!
Tech Move In Weekend
September
Empowering Women
Cradles 2 Crayons
Chamber of Commerce BBQ
Maze Promotions all Fall
Tech Parents Weekend
October
Empowering Women
Maize Open through Thanksgiving
Knit Out & Crochet at Hodges
Cotton Kings Season Opener - October 21


December
Empowering Women - December 7
Photo Sponsor at Santa Land
Merry Christmas & Happy New Year!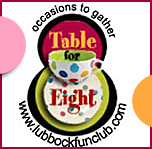 TABLE FOR 8
We are not doing table for 8 right now
but may again in the future.
Table for 8 just means that we're going to sit together and plan to attend as a group. Many times that will be in groups of 8 so it remains manageable. Sometimes that means 1 table of 8 and sometimes more.
See events for
Current Month and
Upcoming Months
and ... be sure to
Join the Fun Club
to get our FREE
Postcard updates!


Stay tuned to
Stars Lite Rock 104.3
to learn about
Lubbock Fun Club!

Listen to the Lubbock Fun Club Report with the "Fun Lady" on
STARS 104.3 radio Thursday mornings
at 8:40 a.m.
Click here for the
DOT COM DIRECTORY
to see or sponsors and find neat businesses in Lubbock!