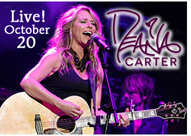 October 20….Deana Carter in Concert with Full Band - Deana Carter didn't take a seemingly easy route to stardom, but instead chose to defy the conventional expectations of the typical Nashville artist blueprint and make her own mark. And she did, undeniably taking the industry and fans by storm with her wildly successful multi-platinum international debut "Did I Shave My Legs For This?" more than a decade ago. Anchored by the dreamy super hit "Strawberry Wine", Carter showcased her own blend of country and retro-rock sprinkled with the folksy singer/songwriter qualities that have garnered Deana Carter well-deserved respect and wild acclaim. Reserved seats; floor, first 5 rows $30; remaining floor $25; standard balcony $20. Purchase by visiting cactustheater.com or call 762-3233. Cactus Theater, 1812 Buddy Holly Ave; Doors open at 6:30; show at 7:30 pm.





October 21….The MTV Generation: '80s Rock Vault,
Vol 1 - Rock 'n' roll entered the television mainstream in late 1981 with the launch of the all-music video channel MTV...short, of course, for "Music Television". The cable channel quickly became the hottest marketing platform in the history of popular music...and made stars out of unknown bands virtually overnight. It also helped broaden the appeal of radio stars who could then more effectively market their IMAGE - literally and figuratively - to an audience of consumers ready and waiting for this new multi-media concept. Unknowns became hot-selling stars....previously popular radio stars became video superstars...and some, like Michael Jackson, went global on a scale like no one before or since. It was truly a cultural phenomenon that heralded a whole new era for the music industry and, even more significantly, pop CULTURE, as a whole. The glory years of MTV peaked in the late '80s....evolved and changed in the '90s....and the music video format eventually gave way to virtual reality shows and faded away from its original concept. Now, the Cactus looks back at that seminal moment in history - when unknowns like Billy Idol, Pat Benatar, Joan Jett, Bryan Adams, Survivor, The Stray Cats, Prince and scores more burst into stardom through the medium of Music Television. Join The Rhythm Machine - with vocalists Bethany Longoria, Shad Daughtery, Haley Simpson and Steven Shedd - for this time-trip back to the '80s - when video didn't kill the radio star....it just made them more accessible...like never before! You'll hear the biggest hits from the video era in this special live music production. Reserved floor seats $20; standard balcony seats $15. Purchase online at cactustheater.com or call 762-3233. Cactus Theater, 1812 Buddy Holly Ave; Doors open at 6:30; show at 7:30 pm.





October 21 - 23 (Repeats Oct 28-30)….LCT Presents: Dr. Jekyll & Mr. Hyde - A new and shocking version of Robert Louis Stevenson's classic tale of depravity, lust, love and horror. On the fog-bound streets of Victorian-era London, Henry Jekyll's experiments with exotic "powders and tinctures" have brought forth his other self—Edward Hyde, a sensualist and villain free to commit the sins Jekyll is too civilized to comprehend. When Hyde meets a woman who stirs his interest, Jekyll fears for her life and decides to end his experiments. But Hyde has other ideas, and so the two sides battle each other in a deadly game of cat-and-mouse to determine who shall be the master and who his slave. With multiple Hyde's portrayed by members of the cast. From the novella "Strange Cast of Dr. Jekyll and Mr. Hyde" by Robert Lewis Stevenson. Adapted by Jeffrey Hatcher. Directed by Jay C. Brown. Classic horror story: Rated: PG-13. You can purchase your tickets on-line at lubbockcommunitytheatre.org or by calling the office at (806) 749-2416. Lubbock Community Theatre, 4230 Boston Avenue; Friday and Saturday: 7:30 p.m.; Sunday: 2 p.m.












October 22….Hieronymus Bosch with Christian Conrad - As we get closer to Halloween, the season of the weird, Saturdays at LHUCA will explore one of the strangest artists from history. Sixteenth-century Dutch painter Hieronymus Bosch, famous for his fantastic scenes of Armageddon and Paradise, continues to be a popular source of imagery even to this day. Each of Bosch's painting had strange elements such as unusual creatures, but amazingly much of the paintings are rooted directly in the world around the artist. Join us as we look at the art of the uncommon and examine the imagery of the unusual in our first Halloween-themed lecture. Saturday Lectures at LHUCA is an informal conversation over the life and work of contemporary artists. It's a stress-free opportunity to examine the art and ideas that underlie much of the modern art world. Attendees are encouraged to ask questions and join the conversation. This event is free to the public. Join us for coffee and donuts! LHUCA, 511 Ave; 11:30 a.m. – 1 p.m.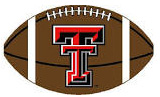 October 22….GIANT Screen Football: Texas Tech Red Raiders vs Oklahoma Sooners - Join us for a FREE SCREENING of the Texas Tech Red Raiders vs. Oklahoma Sooners Big XII football game as we again offer fans the chance to see the game on our new, GIANT screen in the Cactus Theater. The concession stand and Cactus Cantina will be available for your enjoyment. For this game, there is no ticket or voucher required - we simply invite fans to see the game on the big screen with us. Seating will be general admission for this event....so sit wherever you'd like on the floor (balcony will only be opened if needed). We're excited to have this brand new screen in place and the highest-quality, digital, laser projection in town! Cactus Theater, 1812 Buddy Holly Ave; Doors open 6:30 p.m; game screened at 7 p.m..




October – November 12
The Maize at At'l Do Farms – Lots of fun awaits you at the Atldo Farms Corn Maize as they celebrate their 16th season. This year's maize features Quanah Parker. Admission is $10 (4 & under are free) and includes maze or kid maze, hayride to pumpkin patch, hayride to Pumpkin Hollow after dark, cow train, corn cannon (3 shots) and barnyard. With military or college ID - $2 off, senior citizen - $2 off, group rates: $8. The regular maze can be a little overwhelming so they have created a special trail through the corn for families with younger kids. Along the journey you will be reading story boards of "Young Quanah & The Rabbit". It will be a fun adventure! Take a hayride out to the patch, stroll through the vines and pick your perfect pumpkin. Many varieties to choose from. Prices range from $1-$20. Hayride to pick pumpkins stops at dusk. As soon as the sun sets each evening the hayride to Pumpkin Hollow begins! There are over 150 carved pumpkins with designs from Disney characters, Star Wars, Peanut Characters, Famous people, and American theme and much more. New pumpkin designs this fall created by Eileen Martha. Come see the illuminated pumpkins by the harvest night sky. The Windmill Grill & Bakery will be open and serving up Maze favorites such as brisket , regular sausage and jalepeno sausage wraps, hamburger/cheeseburger, Frito pie, fresh Apple Blossom, gourmet brownie, homemade pumpkin bread, frozen treats, spiced cider, hot chocolate, refreshing drinks and our famous corn suckers. You can also reserve campfires - $30( Call for reservation- 763-5594). Horse rides - $5 (Saturday & Sunday until dusk). The At'l Do Farms Corn MAiZE is located 3/4 of a mile west of Frankford Ave (FM 2528) on FM 1294. GPS address: 6323 FM 1294 Lubbock 79415 (you must enter the zip!); Closed Mondays. Open Tuesdays- Fridays 6 – 9 p.m., Saturdays 10 a.m.- 9 p.m., Sundays 2 – 9 p.m. and By Reservation: Tuesday- Thursday 9 a.m.- 3 p.m.( school field trips).


Many more listings can be seen by clicking the "Calendar" tab at the top of this page!